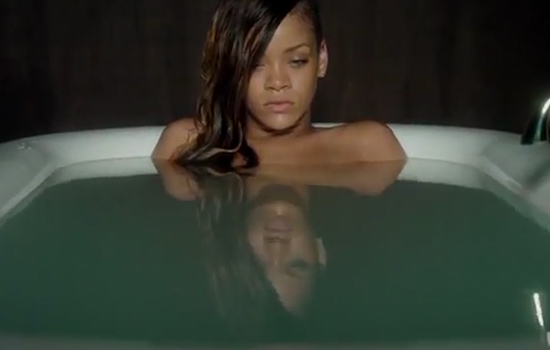 Rihanna has hit it on the head again. This time with a very intimate video debut of her heartfelt track, entitled,Stay [Explicit]
. Rihanna captivated audiences at the 55th Annual Grammy Awards during the performance of the song; who would've known that she would drop a video the very next day. The video debuted on E! the entertainment channel, an Rih-Rih has once again strips down and bares her soul in this video. Rihanna Check out the video now.
Rihanna Strips For The Paparazzi
Looks like
Rihanna
is back at it again, playing peek a boo in the nude with the papparizzi is a fun time for
Rih- Rih.
This time the good girl gone bad has drastically exercised her right to be young, wild, and free. Rihanna has chosen to fully expose her ta-ta's and booty in this full fledged body shot of her in the nude. I guess exhibitionism is one of Rihanna's strong points.
One source asked? Who changes clothes on the balcony in the nude, knowing that the papparazi is watching? My response,
Rih-Rih
. In case, you live in a cave and have not seen Rihanna's latest rendition of T&A, I've managed to snag the photo's courtesy of
mommysdirtylittlesecrets
.
check out
Rihanna in the Nude
1.
Rihanna in the Nude 2
.
Rihanna in the Nude 3.
But, wait here is shocking revelation.. Aforementioned ,
was a tatoo of a blunt on Rihanna's right booty cheek
. However, it seems that the tatoo has vanished. Uh Oh, where is Rih-Rih's tatoo, is the badgirl sporting a press on fake tatoo on the booty shot. Check out photo
two of Rihanna in the nude
and tell me what you think.
Related:
Rihanna and Chris Brown Gets Smoked Out Via Instagram
,
Rihanna's Edgiest Outfits