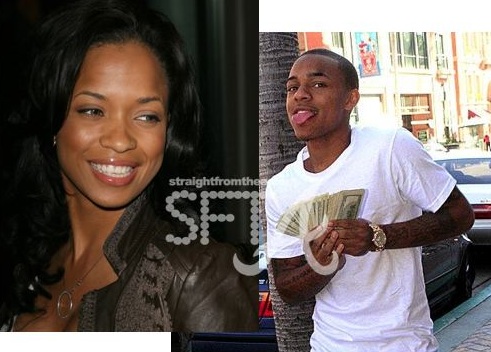 WTF... Karrine "Superhead" Steffans is up to her same old antics. As aforementioned, the ex-vide-whore vixen threatened Lil Wayne months ago with a tell all. However, the threat geared towards Lil Wayne, as usual is, slowly but surely becoming toxic with several other industry names. One name in general rings a bell, Shad" Bow Wow" Moss. Yesterday, I reported according to Bossip, it appeared as if Drake may have had a relationship with Karrine; however, the excerpt featured, it was actually in Karrines Shad"Bow Wow " Moss chapter. In Superhead's latest tell all, How To Make Love To A Martian
, she openly admits to engaging in a sexual relationship with "Bow Wow ", who by the way, she knew Lil Wayne referred to as his lil brother, to grab Wayne's attention. She also admits to eventually catching feelings for Bow Wow and running off Lil Waynes tour bus into the arms of Bow Wow. Not only does she expose the Shad as being somewhat of a snitching source for Lil Wayne but she also reveals a conversation where in Lil Wayne asks " Bow Wow" is he showering with his Bitch?
An excerpt from
How To Make Love To A Martian
reads,
"He began to kiss my neck and ran his right hand up my skirt. I shivered and cried, then, I backed away from Wayne, tears in my eyes and said, " I can't do this anymore".
"What do you mean?"
"You left me. Now, Im leaving you."That being said, I walked toward the exit.
"Your not really going to leave, are you?"
I opened the door; the alarm sounded and I ran back to Shad's bus. That was it. Wayne and I were over."
But wait, as the plot of the story thickens, Superhead confesses that for the next four months she and Bow Wow spent most of their time together. She also reveals that Lil Wayne and Bow Wow were no longer communicating after the running off Lil Waynes tour bus stunt to Bow Wow's tour bus. Eventually Lil Wayne calls an invites "Bow Wow" out to a Miami Heat game; where she observes, via television of course the two of them dressed alike in camouflage pants and wife beaters. She goes on to share the conversation that she and Shad aka Bow Wow had the following afternoon.
Superhead writes;
"My heart stopped. Shad expressed, over the past months being ready to move on from Jermaine Dupri's So-So Def Records, his label home since he was a child. Though I was supportive of him moving onward and upward and exploring new avenues in his career, both musically and in the world of film and television, signing with Cash Money was not the move. Wayne was going to shelve him. It would be the ultimate payback."
Wow, so there you have it. Bow Wow has both Karrine and Lil Wayne to thank for his musical career being at a stand still, oh so Superhead thinks. SMDH... what will she confess next. If you have read head her book feel free to grab it now fresh off this blog. This was the best 2.99 I've spent yet. lmao