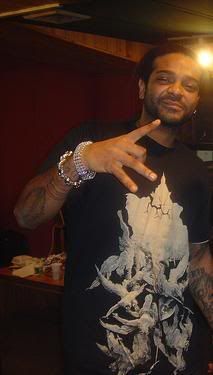 Rapper and Love and Hip Hop Star Jim Jones was maced in the face and arrested by Connecticut's finest.This incident as being reported by TMZ.com, was the result of some random intoxicated guy disrespectfully approaching Jim and talking trash. It was acknowledged that Jim initially ignored him, and the guy proceeding to engaged in further disrespectful behavior; which eventually resulted in a brawl between the guy and Jim Jones. Cops maced Jim Jones and arrested him in the process of ending the fight. TMZ.com has even got the brawl on video. Check out the video footage below.
According to TMZ.com,
"
According to TMZ Jim did not know the man who approached him and started swinging.
Jim has since been bailed out.
Check out the story below as reported by
TMZ
:
Jim Jones was involved in a crazy brawl last night in Connecticut which resulted in him getting arrested, but not before it took five cops and a little bit of mace to subdue him ... TMZ has learned.

Sources close to Jones tell TMZ the rapper was walking through the casino after a party hosted by Diddy at the MGM Grand at Foxwoods. Our sources say a guy, who seemed intoxicated, came up to Jones and started talking smack to him, which Jones tried to ignore.

According to our sources, the guy then hit Jones in the face and Jones fought back in self defense. Then the guy's friends jumped in ... then Jim's people jumped in ... and IT WAS ON!!!

We're told Jones had no idea who the guy was or what triggered his beef with Jones.

Sources close to Jones say he was arrested and it took the aforementioned cops and mace to bring him in. We're told he has since bonded out and is headed back home soon.

Jones had no comment. The hotel had no comment as well, and referred us to the Connecticut State Police. No word back from them so far."
Get Jim Jones Music Now Remember Jim Jones Hit Song? Grab It Now