Kim Kardashian's Baby Shower photo credit: mirror

Kim Kardashian
has had a very eventful weekend. For starters, the reality t.v. fashionista was thrown a mega-baby shower.
Kim K
. was joined by a host of celebrity friends and family. Among the turnout was
Kelly Osbourne
,
Mel B., Kimberly Stewart
, and even
Ne-Ne Leakes
. The attire was set to be all white, as Kim and Kanye had agreed to keep the sex of baby Kimye a secret.
According to
Emirates
,
Kim's mother Kris Jenner hired top Hollywood events planner Sharon Sacks to organise the intimate affair with the help of Kim's sisters Khloe and Kourtney, who arrived in white dresses.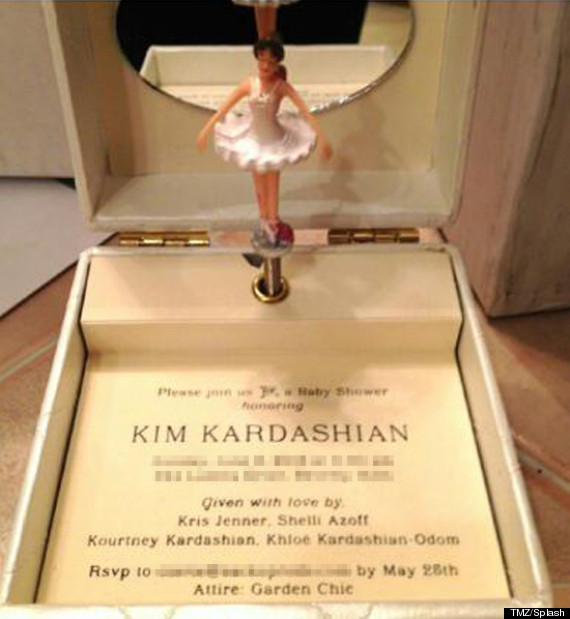 Kim Kardashian's baby shower invitations
They sent out music box invitations to the bash last month, featuring twirling ballerinas to friends with an ode, 'Hey Mama', written by Kanye about his mother, who died after complications during cosmetic surgery in 2007.
Kimberly Stewart, who has a 21-month-old daughter Delilah after a brief fling with actor Benicio del Toro, celebrity trainer Tracy Anderson, 'Extra' host Maria Menounos and reality TV star NeNe Leakes were also present to help the 'Keeping Up With The Kardashians' star celebrate at the elegant "ladies' brunch" before of the arrival of her first child with rapper Kanye West early next month. The 'Mercy' hitmaker planned to make a brief appearance at Kim's baby shower with Khloe's husband Lamar Odom and Kourtney's boyfriend Scott Disick.
Meanwhile, "Keeping up with the Kardashians" revealed the great news as it showed Kim visiting the doctor who later revealed on air the sex of the baby was, and is, indeed a girl. Congrats Kim and Kanye.