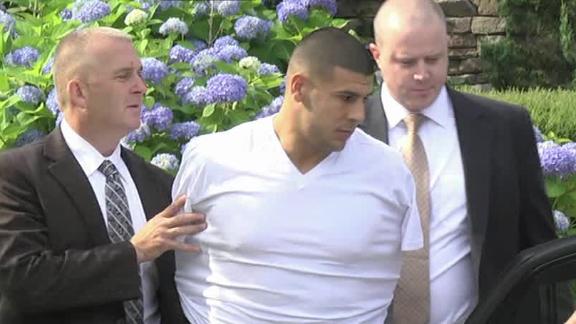 Aaron Hernandez arrested photo source: ESPN
What Is This World Coming To? New England Patriots tight-end, Aaron Hernandez, is not having a good day. Early this morning, the 23-year old star NFL player was arrested at his home just before 9.a.m. Apparently, Aaron is the named suspect in a brutal murder cases. Shortly afterwards, the New England Patriot's decided to release him as a player Things are not looking good for the player.
According to NBC
Bristol County District Attorney Samuel Sutter confirmed in a statement that Hernandez would be arraigned later Wednesday at Attleboro District Court.
Less than two hours after the arrest, the Patriots announced they were releasing Hernandez.
"A young man was murdered last week and we extend our sympathies to the family and friends who mourn his loss. Words cannot express the disappointment we feel knowing that one of our players was arrested as a result of this investigation. We realize that law enforcement investigations into this matter are ongoing. We support their efforts and respect the process. At this time, we believe this transaction is simply the right thing to do," a statement from the team read.
The Patriots drafted Hernandez in 2010. Last summer, the team gave Hernandez a five-year contract that is worth $40 million, including a signing bonus of $12.5 million.
The body of Odin Lloyd, 27, was found June 17 about one mile away from the tight end's North Attleborough home. The death was ruled a homicide; Hernandez has not been named as a suspect in the case.
The investigation also cost Hernandez his endorsement contract with CytoSport, which makes Muscle Milk and other supplements for athletes, last week.
A call to Hernandez's attorney was not immediately returned.