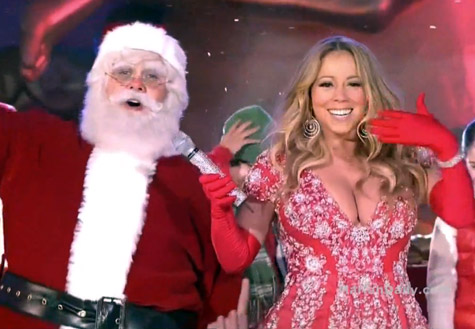 Mariah Carey In the NYC for Christmas photo credit: Itsbizkit
Mariah Carey looks pretty festive as she performs one of my favorite songs from her Christmas Album that's entitled
Merry Christmas
. Mariah sung her ever popular version of
All I Want For Christmas Is You (Original Version)
. Seems that Mariah is not letting her latest episode of Nicki Minaj's American Idol drama turn her into a scrooge.
According to
Itsbizkit
,
The holiday season is officially here, and Mariah Carey helped NYC bring it in on Wednesday night for NBC's "Christmas in Rockefeller Center." The Pop diva got everyone in the holiday spirit as she kicked off the show with the classic "All I Want for Christmas Is You," joined by dancing children and Santa Claus.
After switching outfits into a glamorous gown, Mariah serenaded the audience with her holiday single "Christmas Time Is in the Air Again" surrounded by white trees.
"Merry Christmas and to all a good night," said Mariah before the tree lighting ceremony