Usher and ex-wife Tameka Raymond photo credit: Rolling Out
I'm guessing Usher is at the end of his ropes with Tameka Raymond, and is now evicting her from his mansion. TMZ is reporting,
"Usher
wants to make it clear to his ex-wife ... the days of freeloading are OVER -- because TMZ has learned, he plans to sell the mansion she currently calls home.
Sources close to the couple tell TMZ, Usher's lawyer sent
Tameka Raymond
a letter informing her the 12,000 sq. ft. Georgia home -- which Usher owns -- is going on the market and she needs to find new digs.
Usher has allowed Tameka to live in the home for the last few years -- but per their 2009 divorce agreement, Usher has
the right to sell the pad
at any time as long as he gives 60 days notice.
According to sources, Tameka didn't take the news well, seeing as she has no income of her own and has been financially dependent on Usher since the divorce.
On the flip side, we're told Usher feels he's given Tameka plenty of time to get her act together ... and enough is enough."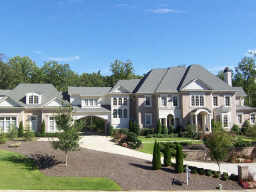 Usher's 3 Million Dollar Home, Tameka Raymond's Current Residence photo credit: Straight From The A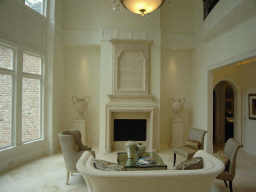 First, there was the ugly custody battle, where she painted Usher out to be one of the worst people in the world. During the trial Tameka publicly disclosed, infidelity issues that she endured with Usher. Tameka stated that she was devastated as she learned of Usher's sexual involvement with not one, but two of her Bridesmaids. She also, revealed that she didn't think that Usher was capable of taking care of her son's solely, as she demanded that he take a drug test. Usher was in dismay, as the media constantly captured photos of Usher with tears streaming down his face. The photo even showed her reaction, as she sit with a smile on her face at while Usher was scrutinized.
However months later Tameka's world came crumbling down, as she lost her 11 year old son, Kyle in a jet-skiing accident. It was said, that Usher, charted a plane to fly Tameka across the world, so that she could get to her son. Usher's great gesture backfired again, as some of Tameka's close friends, attacked Usher again, stating that the media, totally disrespected Kyles biological father, by giving Usher so much praise and not mentioning him. However, Usher remained silent. A month later, Usher made a decision to continue on with his custody battle for sole custody of his two boys. A judge awarded final custody of the children to Usher, and all hell broke loose.
Usher conducted an interview with Oprah. The interview must have set Tameka Raymond off again because shortly, after Usher's Interview with Oprah. Tameka Raymond conducted an interview of her own, where in she dished tons of dirt on Usher yet Again. Check out the interview that may have pushed Usher to evict her below.