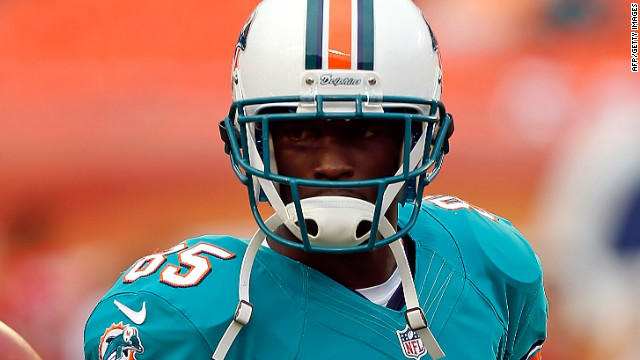 photo credit: CNN
What Is This World Coming To? This weekend has proven to be
one of havoc
for both Evelyn Lozada and Ochocinco. As previously reported,
Chad Ochocinco Johnson was arrested
for misdemeanor domestic battery charges Saturday evening. Apparently, he headbutted his wife
Basketball Wives, Evelyn Lozada
after the two were involved in a heated argument that resulted from Evelyn finding a box of condoms receipt and questioning him.
The list of events have been detrimental to the football career of Chad Ochocinco- as the Miami Dolphins has decided to severe ties with the former wide receiver. Miami has decided that to cut Chad Ochocinco.
CNN
reports,
(CNN)
-- Longtime NFL wide receiver
Chad
Johnson has been released by the
Miami
Dolphins
after his arrest over the weekend. Johnson is accused of head-butting his newlywed wife, authorities said.
The
Dolphins
announced Sunday on their website that they had terminated the contract of Johnson, who played a preseason game on Friday but had not participated in a regular season game with the team. No reason was given for his release.
Johnson and Evelyn Lozada, a cast member on the VH1 reality TV show "Basketball Wives," married on July 4 and their time together is set to be subject of an upcoming show on the same network.
While, Chad may have been good for press, the team made a conscious decision to part ways with him. I guess this was not the kind of press they had in mind. This is very unfortunate for Chad as he was being featured in the world of reality shows. First, there was his new show set to air on VH1, The Ev and Ochocinco show as well as HBO's Documentary "HardKnocks". The Ev and Ochocinco Show is set to air early September. However, hardknocks is in production as week speak. It highlights the Miami Dolphin's NFL journey.
This story is truly shocking to me because, I was sure that this couple was surely meant for one another, as I witnessed episodes of the
Basketball Wives
where Evelyn openly stated that a man will do what he wants to do. She further states that if he decides that he wants to cheat her response would be, "buy some condoms". She said I'm not condoning it and I may not like it but, if your honest with me I will say, " go buy some condoms". I can't front by saying that I understand that. Bottom line if you still in that frame of thought then, it's clear marriage is not something that should get involved in.
However, I do believe that this couple loves each other simply because of the way they speak and relate to each other. I don't know what to make of this because he has already gotten physical with her. I don't know if their marriage will survive this tragic incident. What Do You Think?
Related:
Chad Ochocinco Johnson Is Released From Jail After HeadButting His Wife
,
Chad Ochocinco Is Arrest For Headbutting His Wife Evelyn Lozada