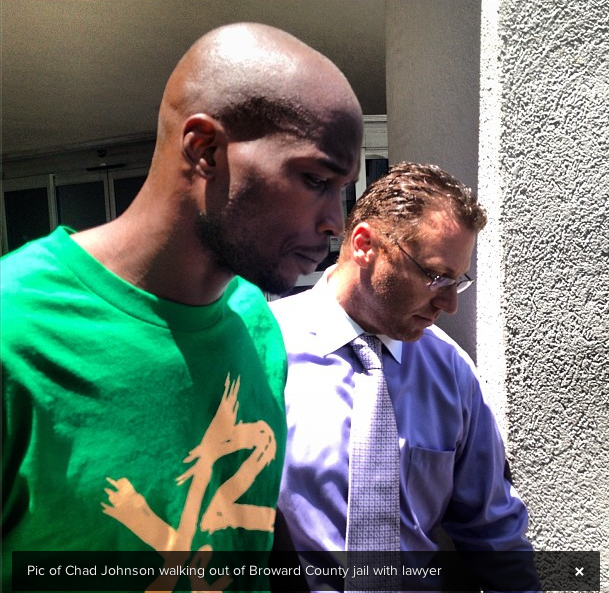 Photo credit: Instagram
Chad Ochocinco Johnson
has posted $2500.00 bail and has been released from jail Broward County Jail on misdemeanor battery charges. The judge has also enacted a no contact order against Chad, restricting him from any contact with his
wife Evelyn.
So, sad the way this is all panning out because this move could ultimately make or brake both of their careers.
Chad football career is in serious trouble, earlier in the a.m. Miami Dolphins Coach stated that Chad was warned that if he continued to use foul language, and aggressive conduct that he could be cut from the team. He further stated that he is unsure of what decision to make now; However, he insists that Chad has put him in a very compromising position- to determine the fate of his football career.
Talk about a hell of a night, in one blow Chad Ochocinco could lose both loves of his life-
his wife
and his football career. Sometimes it just pays to think before you react.
Bleachereport.com reports
In a strange twist, Johnson actually joked on the show with Stuart Weinstein, the
Dolphins
' chief security investigator,
that he would get

arrest

ed
on his day off. Perhaps he should have knocked on wood.
For
the
Dolphins
, this is the worst possible outcome. While the real focus of this incident shouldn't be about how a football team is affected by domestic abuse but rather how disturbing domestic abuse is, we'll grant Johnson's innocence until—or if—he is found guilty.
Until then, we'll focus on this incident
from
a football perspective.
Decorum is important but sometimes, you have to be careful what you speak. Sometimes speaking things can play a big part in them coming into existence. SMH.. I hope things turn around for the couple I was so pulling for them.
Related :
Chad Ochocinco Is Arrested For Headbutting His Wife Evelyn Lozada