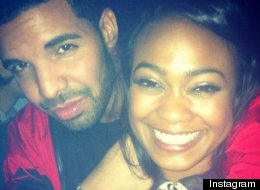 Drake and Tatyana Ali
Well look who's all grown up and gushing over one of ymcmb's finest; It's none other than
Fresh Prince Of Bel- Air's Tatyanna Ali.
Recently, Talk show host
Wendy Williams
put the actress on spot when she asked questions about her relationship with
YMCMB's Rapper Drake
.
Huffington Post reports,
Earlier this year
Tatyana Ali
celebrated her 34th birthday in Los Angeles. And after
professing her admiration for Drake
to the Huffington Post in January it appeared that the Grammy Award winner decided to charm the Harvard graduate
by joining her during her birthday party
at LA hotspot, "Supperclub."
During an appearance on "The Wendy Williams Show" this week, Ali was put on the spot about her connection to the Young Money MC. "He is absolutely brilliant," she gushed to Wendy before adding; "And I am a huge fan of his…I wasn't popping bottles like that, but he got me a beautiful bottle of champagne and it fell down from the sky and I felt really special."
After tip toeing around Wendy's question, the self-proclaimed "Queen of All Media" then followed up by asking the former "The Fresh Prince of Bel-Air" star if she had a one-night stand with Drizzy.
Check out Ali's speechless reaction in the clip above.