What Is This World Coming To? In the name of all foolery, what would possess Keri Hilson to diss Beyonce? Your guess is as good as mines. Usually, when one person disses another it's because they're sure that the other person couldn't possibly measure up to them. Nothing could be further from the truth as Ms. Keri Baby was sure to find out first hand-via twitter. Years ago, Keri Hilson nearly committed career suicide when she jumped on the "I Hate On Beyonce" bandwagon and created a diss line in the "Turnin Me On " Remix. As a result, Beyonce's fans have been anything but bashful about their utter disgust with Keri Hilson. It was reported that she was even sucker punched by one of Bey's crazed fans.
Last night proved to be a night of breakin for Keri, as she'd finally had enough; or so she thought. She actually tweeted the following:
StaightfromtheA shared the following photo's,

As you can see, she requested that they miss her with the drama; As instructed Beyonce's fans decided to do just that when they tweeted some of the following with the rt miss me with the drama, Miss her with a Grammy, and Like they missed your album with a hit, and they even tweeted like your music missed the charts. Poor Keri was tormented. Take a look at the tweets... SMDH...but this was hilarious!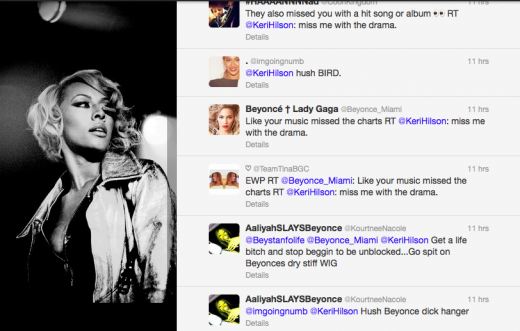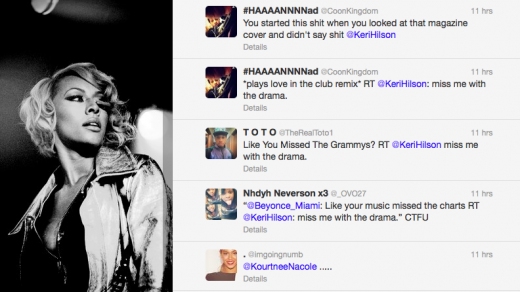 In the end Beyonce's fans left Keri pleading and apologizing. She finally tweets.