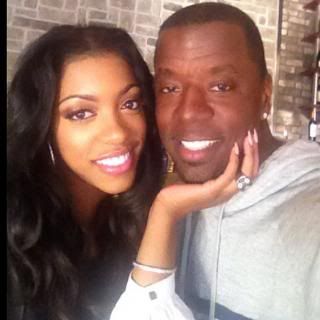 Porshe and Kordell Stewart
What Is This World Coming To
? As I'm sure you all may know,
Real Housewives of Atlanta's
reality show cast mate,
Porsha Stewart's
soon to be Ex- Husband Kordell Stewart
has officially showed oout; (sidebar I do mean showwwed OT). First and foremost, Mr. Stewart filed for divorce without so much as a mention of it to his wife. Next, he decided that he would showcase Porsha to the media as a bad wife, who never had time for her husband or
his kid
. Oddly enough, the divorce has been in the air, all but a few weeks, and judging from prior reports, Porscha never vacated the house.
Today, all hell broke loose, as
Funky Dineva
,
+Quentin Latham
, read Mr. Kordell Stewart his rights, When he reported,
Allow me to vent for one second. If there was ever any doubt in anyone's
other woman is.
mind if
Kordell Stewart
was gay or not, the stunts and shows that he is pulling should be confirmation that he is a sissy. It is bad enough that
Kordell
blindsided
Porsha
with a divorce, now he is locking her out of the home. The poor girl has had to call the police on two occasions to gain entry into the home where she lives. Additionally,
Kordell
has brought another woman into the home. Catch these T's on why
Kordell
says
Porsha
is locked out and who the other woman is.
Recently ,
Porsha
filed a motion that claimed
Kordell
was locking her out of the house — and bringing another woman into the home.
But in his response
Kordell
claims he only locks the house at night for security purposes. He claims the real problem is
Porsha
frequently leaves home for several days straight … and sometimes comes back between 2:00 AM and 4:00 AM smelling like alcohol. I can't verify if
Kordell's
words are true or false, but the sure as hell feel like lies.
As for
Porsha's
claim of "another woman" in the house —
Kordell
says it's the nanny he was forced to hire because
Porsha
is "neglecting her responsibilities to her stepson." NEWSFLASH, it probably wasn't a real woman, but a tranny with a good weave. This right here has left me feeling some kind of way. A nanny? "Bitch please, he got a mammy. Send his ass back round her house."
Tania
nor
Sheree
' have anything to do all day. I hate to sound cold towards children, but at this point in the game, and after being married for only 2+ years, what real duties does
Porsha
have to
Kordell's
son. Is one reasonably expected to go through a messy divorce and continue to take another living woman's child to soccer practice? Let's be real
Kordell.
In case you hadn't noticed, Kordell is not on Funky Dineva's favorites list. The,"
my hair is laid hunty"
,
Entertainment Blogger,
was sure to read Mr. Stewart his rights, up close and personal. Funky Dineva's blog featured a story that he so candidly entitled
, Kordell Stewart Once Caught Sucking D!CK In The Park.
This story was hilarious, as Funky Dineva called Kordell Stewart out for being gay, revealed his source as a messy ass police officer, and even alleges that Kordell is prepping himself to be Tyler Perry's husband. I love it. I live for his hair video blogs, if you have not seen them please check them out now below, @
Funky Dineva
.com, or on
Twitter @Funky Dineva
.