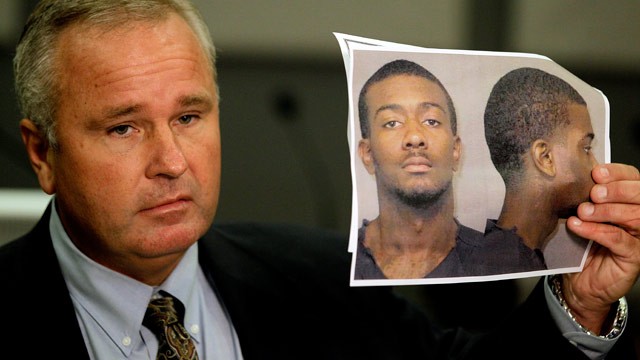 Auburn Police Cheif holds a photo of Desmonte Leonard
Breaking news from Fox 6 has just gone underway. Auburn's police cheif has just held a new conference announcing that the reward for Desmonte Leonard has increased to $30,000. Yesterday, authorities were tipped off and that Desmonte Leonard was in a house in Montgomery; shortly afterwards police raided the home and was unsuccessful in capturing him. Desmonte Leonard is still at large after three days of extensive search.
According to CBS,
MONTGOMERY, Ala. —
The
search
for
a man charged with fatally shooting three people and wounding three more at a party near Auburn University focused on Alabama's capital Monday as police said
the
y had arrested two men accused of hindering
the
search
.
Desmonte
Leonard
's last address was at a residence in Montgomery, and authorities said
the
y believe he returned to
the
city after gunfire erupted late Saturday in Auburn, about 50 miles away. Two
for
mer Auburn football players were among
the
dead and a third was injured.
More than three dozen local police, state agents and federal marshals were
search
ing
for
Leonard
, 22, who records show faced two previous charges involving guns.
"We don't have reason to believe he is outside
the
city," said Sgt. Regina Duckett, a spokeswoman
for
the
Montgomery Police Department.
Auburn police said Jeremy S. Thomas, 18, of Montgomery was charged with hindering prosecution after allegedly fleeing
the
scene of
the
shooting with
Leonard
. Records show Thomas was free on bond at
the
time of
the
Auburn shootings while awaiting a manslaughter trial set to begin June 18 in last year's shooting death of Takiara Sada Gaston, 14.
Montgomery police said Gabriel Thomas, 41, was also charged with hindering prosecution after allegedly having contact with
Leonard
after
the
shooting and providing false in
for
mation to officers.
Police said it wasn't known whe
the
r Jeremy Thomas and Gabriel Thomas are related. Officers also were looking
for
a third man described as a person of interest in
the
case, but it wasn't clear why.