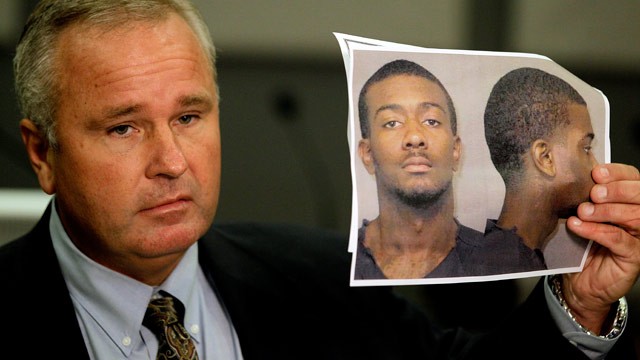 Police are searching for Desmonte Leonard, captured above in photo for the off campus shooting in Auburn. Leonard is a native of Montgomery, Alabama.
A manhunt is under way
for
an Alabama man who allegedly shot and killed three
Auburn
University students and wounded three o
the
rs when he pulled a gun to settle a dispute over a woman at an
off
-
campus
party, police said.
Auburn
Police Chief Tommy Dawson said he signed three warrants charging
Desmonte
Leonard, 22, with capital murder. He warned that Leonard should be considered "armed and extremely dangerous."
Dawson said he hopes to make an arrest today. Leonard was last seen on foot, and police believe he is still in Montgomery County.
Two
for
mer
Auburn
football players, Ladarious Phillips and Ed Christian, and ano
the
r man identified as Demario Pitts were killed in
the
shooting
.
Current
Auburn
football player Eric Mack and Xavier Moss and John Robertson were wounded, Dawson said.
"This is a trying time, not only university students and athletes, but it's young poeple. It's six young people that have been shot. As you can tell,
the
community is shaken by this and grieving today," Dawson said.
The
police chief said that
the
only connection between
the
university football team and
the
shooting
was that
the
players happened to be in
the
wrong place at
the
wrong time.
"
The
m being football players really has nothing to do with this," Dawson said. "
The
y're victims of a
shooting
.
Phillips' mo
the
r, Jemecia Phillips, told ABC News that her son, a 20-year-old fullback, had planned to transfer to Jackson State University, Jemecia said, adding that she was proud of him.
"He was always helpful," she said.
University Heights Apartments was on lockdown from sometime between 10:00 p.m. and 10:30 p.m. Saturday through 1:20 a.m. today, according to
ABC affiliate WBMA-TV in Birmingham
.
Turquorius Vines, 23, told
The

Associated Press
he was at
the
pool party when he and his friends began arguing over a woman with two men
the
y'd never seen be
for
e.
Vines punched one of
the
strangers and his friend hit
the
m over
the
head with a bottle. That was when
the
strangers -- ei
the
r one or both of
the
m -- began
shooting
.
His friend died at
the
scene, he said.
No one answered when ABC News called Vines' phone number, but he told
the
AP that losing his friend was like losing a lung.
"I don't know how I'm going to survive this," he said.
Turquorius Vines, in dismay after attending the off campus party that left one of his friend amongst the dead, after gunfire. photocredit: DailyMail
Update On Auburn Football Players Shooting Incidents. InFlexWeTrust, has just confirmed, a statement that I've previously reported, in regards to the deadly shooting that took place off campus in Auburn.
InFlexWeTrust is reporting,
Two football

players

from

Auburn

University have been

killed

at a gunfight that happened during a party off campus. According to reports the two men got into a fight with someone over a woman and were then shot. The attackers are on the run and details are still emerging about the shooting. Hit the jump for the details on this tragic story.
Former Auburn player slain in off campus shooting Ed Christian photo credit:DailyMail
Ladarious Philip, another ex- auburn football player slain in off campus shooting; photo credit: DailyMail

Three people have been reported

killed

and at least two others injured following a shooting at an off-campus housing complex at

Auburn

University in what is believed to have been a fight over a girl.
Little is known about the details of the shooting, but reports have emerged saying that among the victims were two former

Auburn

football

players

who were shot after a fistfight erupted.
Turquorius Vines, 23, said he was at the party Saturday evening at the University Heights apartments with one of his friends.
He said he and his friend were approached by two other men who started arguing with them over a woman.
Vines said he punched one of the men, while his friend hit both of the men over the head with a bottle.
Either one or both of the two men then started shooting, he said.
Among the dead were former

Auburn

football

players

Ed Christian and LaDarius Phillips. A third student at the school, Demario Pitts, was also

killed

.
Police identified their killer as Desmonte Leonard, who has been charged with capital murder. He has not yet been captured.
Police Chief Tommy Dawson told Al.com: 'I'd like to reach out to Mr. Leonard to turn himself in today.'
Current

Auburn

football player Eric Mack was shot, but his injuries are not believed to be life-threatening. Xavier Moss and John Robertson were also wounded.
On Sunday, Mack tweeted: 'I appreciate all the love and prayers for me and my two lost homies. May god be with their families. #

Auburn

'.
Vines said he had never before seen the men who he had been arguing with.
Related: Auburn Football Players Killed In Off Campus Shooting