Omarian photo credit(Zimbio)






Omarion is furious as he decided to refute a fake press release that he is bisexual or gay. He took to twitter as he tweeted,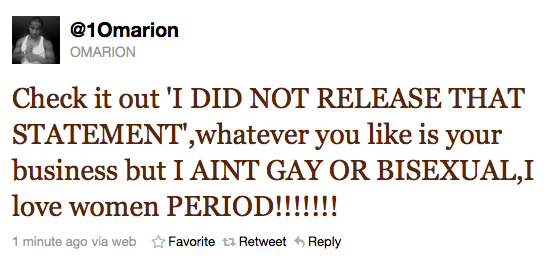 " I
n an
"official"
press release
today, the former B2k band member revealed that he is a "respectable, mature, proud bi-sexual man."
"I pride myself in being an honest, God Fearing, respectful man. I have kept my personal life private and wanted to keep it that way. Unfortunately, other's are interested in profiting from my anguish; so before they can do that, i will clarify things. I am not at all what certain ex-band members are trying to paint me as, I am however a respectable, mature, proud, bisexual man," O stated.
WOW!!!
If this press release turns out to be legit, we guess Raz-B WAS partially right after-all. We wonder what will come to surface next!
How sad is it for people to intentionally slander someone elses name and sexual preference. Sources are saying that this has Raz B written all over it. If in fact he is responsible I am concerned for Omarion and his safety because if Raz B has nothing else to do with his life but to try an create havoc for others then that's sad. If he has infact stooped to these levels then he may be mentally unstable. Can you spell PROZAC. Im just saying.