"Pregnant Man Thomas Beatie" photo credit:Cheeju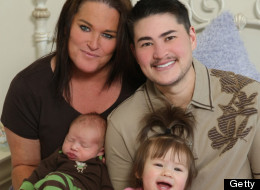 Thomas Beatie His Wife and His Kids Photo Credit: Huffington Post




Thomas Beatie at 9 months pregnant: This is way to weird for me. WTH?
The tale of a pregnant man, who'd ever heard of such a thing? Apparently , everyone except yours truly. Meet Thomas Beatie; It's seems that Thomas Beatie made history when became the first transgender man to give birth in 2008. The plot to this story thicken because, well get this Thomas Beatie leads the life of a man. This story is extremely strange because not only did he give birth but he gave birth three times. Beatie's decision to give birth was carefully concluded after learning that his wife was infertile.
The couple is making headlines again because they are seperating. This doesn't not surprise me. It has got to be the weirdest thing in the world a man with a menstrual has got to be extremely weird. Hey this story is shocking and mind boggling. Shaking my head, at yet another shocking incident, another one of those things that makes you wonder, What Is This World Coming To? According to Huffington Post ,
Beatie announced the split from his wife, Nancy, during a taping of an episode of "The Doctors", which is set to air on May 7,People reported.
"Like all marriages, we have our ups and downs, and we're going through a rough patch right now," the 38-year-old said. "At the moment, we're separated."
Beatie also revealed that he had undergone the last of his female-to-male sex reassignment surgeries.
Check out this video interview with Beatie: